Rethea didn't expect to be a success story when she walked through the SloBody doors in a world of pain. She had been battling multiple issues including residual pain after back surgeries and disc herniations. She was going to the acupuncturist, and the chiropractor regularly. You name the therapy, Rethea tried it over the years.
When she would come in we would say "Hi Rethea. How are you doing today" She'd answer "Well…not so good. I didn't sleep well last night because…" And, out the list of discomfort and pain would come.
BUT, it didn't deter her. She committed to her SloBody program and kept at it. And surely, over time, things changed. One area at a time.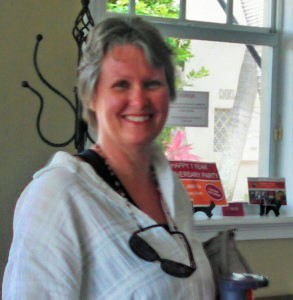 "I just feel amazing. I feel like I have my life back."
8-months later when we we said "How are you doing today?" Rethea said "Good. I'm good."
Read on to find out how she transformed her body and her life.
Considering your history combating herniated discs with multiple doctors of both eastern and western mindset, how did you feel about starting a fitness program with SloBody to tackle your back pain when you decided it was time to take a different approach?
I felt like it was an answer to prayer, honestly. I had been encouraged by the acupuncturist to get into yoga and I was hesitant to do so, but after reading an article in the paper with Kirk and Janine it just sounded like a perfect fit for me.
It was a perfect fit for you because it didn't have all the other embellishments?
Yes; the fact that they talked about not having the meditation part, the fact that they talked about zeroing in on people's limitations and making adjustments or amendments just appealed to me, and the fact that they were so knowledgeable about the human body- being so involved in sports as they are.
What are your top three results since starting our program?
Where do I start? I am stronger, I am more flexible, I am without pain, I just feel amazing. Absolutely amazing.
What do you like best about our program/having a trainer?
I like the fact that it feels like you do have a personal trainer because they are just so in tune to every little nuance and they are able to see if you are missing that position even by a quarter of an inch and they are able to help you make that adjustment.
We know you tried everything under the sun to combat your back pain, including going to the acupuncturist 21 times in 2013. What's it like now?
I don't have to go to the acupuncturist, I also have given up going to the chiropractor. Because coming to class I tend to get little adjustments as we get into the positions my body will automatically adjust itself. And the neat thing is because of what we do and this yoga program the strengthening is holding those adjustments so I don't have to go back and rely on the chiropractor.
Now that you've taken charge of your health and you've found so much relief, how has it changed your life? How has it changed your mindset in reference to your daily activities?
Well I can tell you back in the worst time of my life with all the health issues and struggling with chiropractic especially, I got very depressed. Very depressed. And now the depression is lifted, I am able to do things that I hadn't been able to do before. I feel like I have my life back.
What would you say to someone on the fence about joining our program?
What do you have to lose? I mean, there's so many pluses. On top of all the health benefits, it just feels like family. You have a very neat group here. Janine and kirk are wonderful, they are very personable. It's just feels like family.
Do you want re-claim your body? Make the change you need now and be the next success story! Just call us 561.400.0608 for a free consultation  today.