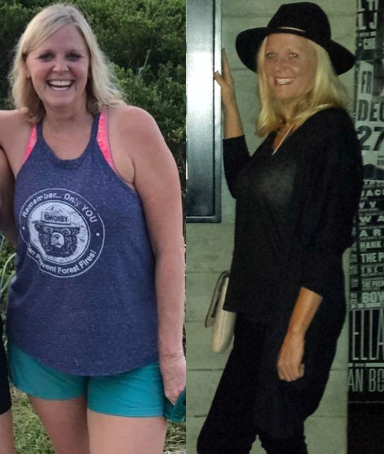 Kim's success story started as many do, on the recommendation of a friend. Kim's friend Audra had just joined SloBody and thought it would be a great way for both of them to get in shape for a 39 mile walk they were doing in a couple months.
Upon meeting Kim she informed us she was doing cardio several times per week (walking and biking) but she was unable to make headway on feeling stronger and "losing her middle." We asked if she was doing any other types of training, specifically some form of resistance training which she wasn't.
We shared that yoga is body-weight training, you use the weight of your own body for resistance just like you might pick up a dumbbell or use a machine for resistance. We explained resistance training will help build strength and muscle which helps burn fat. She was willing to give it a go!
That was back in May of 2017. Kim started with a 3-month 2x/week program attending the 6am classes and started feeling the difference. The big walk was a success (more on that below) and Kim continued to feel and see changes. So much so, that in October she switched to an unlimited program adding a Friday and Saturday class. That's when her results skyrocketed!
Congrats on your amazing transformation Kim! Read on to find out just how much change Kim has experienced and why she keeps coming back.
What made you decide you wanted/needed to start a program?
My friend Audra and I began training in earnest for the Avon 39 in Boston (a 39 mile walk for Breast Cancer) in February 2017. Audra gathered a group of 6 women, all from the east coast, to walk and raised $13,000.00 as a team.
We both jumped into SloBody to support our training and because the approach to fitness totally appealed to us. There was none of the "if it feels good, do it" stuff. We wanted to train, to be strong and flexible, and most of all, we wanted results for the time, effort and money.
SloBody was a real game changer for both of us!
What results have you achieved since starting your program?
Since I started in May, I have lost 13 pounds, an inch off off my hips, my waist and gained a half inch on my calves. I feel strong, burn fat more efficiently and am the most flexible I have ever been….like I said, a real game changer!
What do you like best about our program?
The thing I like most about SloBody is the Tuesday and Thursday 6:00 am classes. Anne, Audra, Art, Richard and I have formed quite the bond as "the regulars" who attend that early class.
The 45-minute session arms me with every amulet I need to slay dragons throughout the day! There is no better way I can think of to start my day. And if more of you joined us, perhaps we could get a Wednesday class going, lol!!!!!!!! 😉
What would you say to someone on the fence about joining our program?
It is worth every penny. The instructors are athletes who can begin you on a path to achieving your personal goals at all levels. Each class has every level of student and the beauty of it is that they know the science behind the movement. In my case, I have always been flexible, but was lacking the strength to "hold the pose." SloBody has helped me break thru a few levels at this point, so in addition to feeling confident and inspired, I also move with more purpose….which is worth the price of admission alone! Feel younger, leaner and move with purpose? Where do I sign?????.
What's a little tid-bit about Kim Giles that we might not know?
In 49 years, I have always started some sort of fitness regimen and either gotten injured or bored by around October (sometimes sooner depending on if I threw my back out or not ;-/) 2018 is the very first year that I ever remember feeling well into my regimen and well on my way….thanks to SloBody!
As they say, a picture is worth a 1000 words….my results are ongoing and who knows, there may be a bikini in my future on my 50th birthday! The possibilities feel endless from where I am sitting right now, and I am very grateful. Join us and you will too!
Wondering how SloBody has helped other people? Check out these SloBody Success Stories
SLOBODY Yoga Inspired Fitness is known for safe, effective yoga that leaves you feeling strong, flexible & younger than your age suggests.   
YOU could be the next success story, just give us a call 561.400.0608 today! We'll chat about your goals and see if SloBody is a fit for you.